Disclaimer: This review first appeared on my Goodreads profile. You can find this review and others on our Tumblr page here.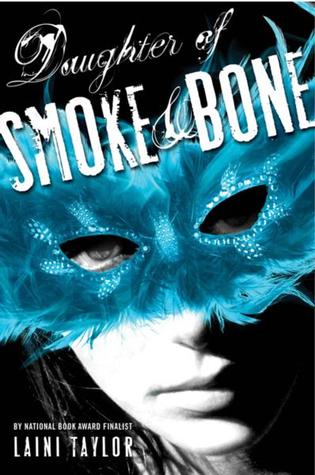 "Hope can be a powerful force. Maybe there's no actual magic in it, but when you know what you hope for most and hold it like a light within you, you can make things happen, almost like magic."
*takes deep, shuddering breath*
I-I...
*sighs*
Where do I start? How to begin? How could I possibly find words to describe this utterly beautiful, perfect story? Anything I say won't do
Daughter of Smoke and Bone
any justice.
It's one of those books that you just...
have
to read, to understand where the praise is coming from. It's not your typical story (although some aspects can be easily referred to as cliché) and it's woven with magic. It's a story within a story, and one that will hook you from page one.
Summary
"Errand requiring immediate attention. Come."

In general, Karou has managed to keep her two lives in balance. On the one hand, she's a seventeen year old art student in Prague; on the other, errand-girl to a monstrous creature who is the closest thing she had to family. Raised half in our world, half in 'Elsewhere', she has never understood Brimstone's dark work now how she came into his keeping. She is a secret even to herself, plagued by the sensation that she isn't whole.

Now the doors to Elsewhere are closing, and Karou must choose between the safety of her human life and the dangers of a war-ravaged world that may hold the answers she has always sought.
When I first read the blurb, the first question I had was, "What is Elsewhere?
Where
is Elsewhere?" and it's a question that will plague you, dear reader, until the very end. The truth is, Elsewhere is
Elsewhere
. It has no place of it's own and, like in limbo, it is stuck between a rock and a hard place.
Karou's not your typical heroine, but at the same time she is. She questions everything and everyone and constantly carries this feeling of being split, of not being whole, around on her small shoulders. She's an art student whose life is split in two and who seeks answers from her loved ones. So when the truth begins to leak in the form of black, scorched hand prints on Portal doors, she needs to make a decision.
And fast.
The setting
We're in Prague! No, really, it feels like you are. The cobblestones, the buildings, the shining sun on your skin... it feels so real when described by
Laini Taylor
It feels so real, like you're walking alongside Karou. Everything is described in detail, but not so much as to bore you, just enough to paint a vivid, gorgeous picture in your mind's eye. It's the perfect setting for the book, and so
pretty.
WHO WANTS TO GO?!
Karou
Goddamn, it's been a while. Who doesn't love a real, true, kick-ass heroine? A punky girl with blue hair and tattoos, that Karou. I immediately fell in love with her persona - she's funny, sweet but a real teenager in the sense that she will have a bitchfit if she feels like it. She doesn't take no for an answer, expresses wishes on little and is just awesome.
I loved her. I loved her sass (that is now a word, ok?), her bitch-please attitude towards her ex-boyfriend and I adored that she could turn from normal teenage girl to kick-ass, angel-fighting badass in a matter of seconds.
At the same moment, she became aware of the pulse in her palms that had made her curl her hands into fists at her first sight of him. It thrummed there still, a pent-up energy, and she was jolted by the certainty that it emanated from her tattoos. An impulse overcame her to throw up her hands, and she did, not in cringing surrender, but with palms powerfully outthrust, inked with the eyes she'd worn all her life without ever knowing why.
She has got to be my favourite MC of all time. You just can't get enough of her.
This is coming from someone who rarely becomes attached to an MC, purely because they're always so
boring
. Karou, though, is not.
Akiva
He's a sexy mofo. Like,
really
sexy. It's easy to believe that such sexiness/beauty/whatever you want to call it, because Akiva isn't normal.
He's an angel.
He's kickass (if not a bit whiny at times, but that's okay).
He's beautiful.
Into kohl-rimmed eyes in a sun-bronzed face. Fire-colored eyes with a charge like sparks that seared a path through the air and kindled it...
Angel indeed.
He stood revealed. The blade of his long sword gleamed white from the incandescence of his wings - vast shimmering wings, their reach so great they swept the walls on either side of the alley, each feather like the wind-tugged lick of a candle flame.

Those eyes.
He's a perfect love interest and one you will love too.
Overall: a
must read
. If you're
not
into fantasy, magic or anything that isn't considered 'normal', then this isn't for you. But if you
are
... well, I have no idea what you're waiting for. Start reading already!
PS I will write a more coherent review at some point this week. Excuse my gushy fangirling feels.