Disclaimer: This review first appeared on my Goodreads profile
"In new situations, all the trickiest rules are the ones nobody bothers to explain to you. (And the ones you can't Google.)" - Cath, Fangirl.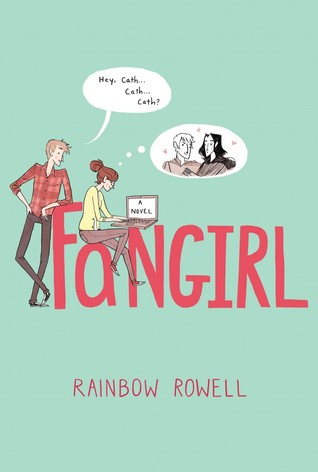 We've all been labelled fanboys/girls at some point on our lives, whether it be for a favourite TV show, a film, a book or even a celebrity. The word fangirl is defined as "

a female fan, especially one who is obsessive about comics, film, music, or science fiction"

but also works great for boys because, believe it or not, sometimes boys have bigger fandoms than girls!
Hard to believe, right? It's true though.
I'd had Fangirl by Rainbow Rowell on my 'to-read' list for a while, considering it came out in September 2013. So when I finally got round to purchasing a copy, I expected this sort of attitude:
And this...
And maybe a little bit of this, too...
And I wasn't disappointed.
As an ex-fangirl myself, I could related to Cath's emotional attachment rather well. When I was younger, my sister and I lived, breathed and ate (metaphorically) Harry Potter. We would write crazy fanfiction stories, blog into the early hours in the morning and when the final book came out, we camped out for the midnight launch and took part in what had to be the craziest race to spend money ever. It was a wonderful time and one of my best memories, it helped us grow and we became inseparable.
The time came to grow up, though, and that sucked. My sister, two years younger than me, became part of the 'it' crowd in school, which meant even mentioning Harry Potter or the fandoms would score her -50 points to Gryffindor and a lot of mocking.
I continued writing fanfiction for a while, moving from Harry Potter to Twilight (I know, worst mistake of my life!) and then stopped when I realised I wanted to write my own fiction.
The blurb:
"
Cath is a Simon Snow fan.
Okay, the whole world is a Simon Snow fan...
But for Cath, being a fan is her life—and she's really good at it. She and her twin sister, Wren, ensconced themselves in the Simon Snow series when they were just kids; it's what got them through their mother leaving.
Reading. Rereading. Hanging out in Simon Snow forums, writing Simon Snow fan fiction, dressing up like the characters for every movie premiere.
Cath's sister has mostly grown away from fandom, but Cath can't let go. She doesn't want to.
Now that they're going to college, Wren has told Cath she doesn't want to be roommates. Cath is on her own, completely outside of her comfort zone. She's got a surly roommate with a charming, always-around boyfriend, a fiction-writing professor who thinks fan fiction is the end of the civilized world, a handsome classmate who only wants to talk about words... And she can't stop worrying about her dad, who's loving and fragile and has never really been alone.
For Cath, the question is: Can she do this?
Can she make it without Wren holding her hand? Is she ready to start living her own life? Writing her own stories?
And does she even want to move on if it means leaving Simon Snow behind?"
When Cath and Wren head for college (or University, for our Brit readers out there!) Cath becomes more and more engrossed in her fandoms whilst Wren leaves it behind to live the crazy freshman life. Cath has two objectives -- survive her first year and finish her Simon Snow fanfic before the last instalment of the series comes out.
Will she be able to do it? Can she hack the pressure from her fans as well as passing her first year?
This is a lyrical, poignant coming of age story -- about fandoms, about becoming independent and most of all about first love.
Cath
Man, I loved her. She's one of the characters you can just relate to, who speaks about certain aspects of life and you can point your finger and say "Too right!" and "I've done that before!" or even "You're not alone." Her voice brings to life every young adults fear and she takes you onto the path of growing up -- it's an inevitable fact, but one feared by many. Who wants to grow old and leave their childhood behind? No one, that's who.
She's funny and witty, although sometimes she comes out with the weirdest things (and she seems to have an odd eyebrow fetish):
"His eyebrows were orgasmic."
'"His lips were thin but dark, like the inside of his mouth'."
She's the sort of girl you would want to take home to your parents (boys) or become BFFLs with (girls). Cath might have her priorities all screwed up, but she's real. It was refreshing to read from her point of view -- so many YA characters have let me down this year.
Levi
I need a Levi in my life. Heck, every girl needs a Levi in their lives! He's sweet, charming and, although 21 and old enough to know better, he forces Cath to follow her dream of finishing her Simon Snow fanfic. He's a happy-go-lucky kinda guy and spend all of his time laughing and smiling, even in the worst kind of situations...
He pops lines like these as if they're going out of fashion:
"I choose you over everyone."
"I miss you."
"That's stupid," she said. "I saw you this morning."
"It's not the time," Levi said, and she could hear that he was smiling." It's the distance."
"She smiled, and her eyes started to drift downward.
"Cather..."
Back up to his eyes.
"You know that I'm falling in love with you, right?"
"Take off your glasses."
"Why? I thought you liked my glasses."
"I love your glasses. I especially love the moment when you take them off."
For the most part, whenever Levi was mentioned, this was me:
And throw in a bit of this...
And you had yourself a very happy Aly. He's everything you would want in a fictional character.
Overall, 10/10 would recommend to everyone. Such a sweet, heartfelt book. Perfect for those, especially, who can relate to the whole 'fandom' idea.
My rating: 4.5 stars.
~Aly