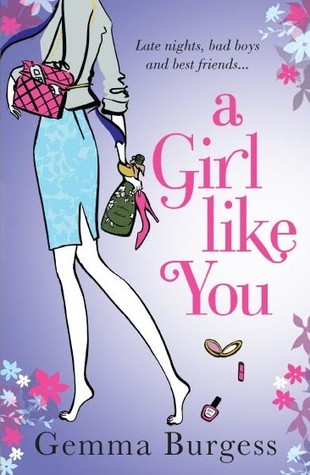 A Girl Like You by Gemma Burgess
Disclaimer: This review first appeared on my GR profile
The Rules of Surviving Singledom

Always leave them before they leave you.
Here's the thing about chick-lits: they push you into a massive vat of fluff, cuteness and aww inducing moments and once you're in the vat, it's hard to get out. When reading a book like A Girl Like You, you may experience the following symptoms:


Lack of oxygen

The Giggles

Dizziness/swooning

Hyperventilating

Weight gain from overeating of ice cream, cookies and other sugary products

Unexpected flashes of anger

Helplessness
They may seem like small symptoms, those you can avoid or pretend you aren't experiencing. Like when you're getting the flu but you really don't want to have the flu. Except these symptoms? If you don't face them sooner or later, you'll be left in an puddle of emotions that may scare your cat into hiding for a week and then proceed to give you the silent treatment.
Oh, you didn't know cats could give you the silent treatment? Now you do. It's nasty.
THIS is the reason I love chicklits.
This book
is the reason. It's fluffy, it's cute, it has an adorable MC you just want to cuddle/slap/bitch at/be best buds with/cry over a tub of ice cream with, it has hot guys that you want to kick/punch/murder/kiss/cuddle/do the dirty with. It has a beautiful sister bond, an even more beautiful family bond and oh my Christ, if you don't like this, we can't be friends.
This is classic chicklit feat. The Ugly Truth. Sassy, witty, fluffy and romantic. Swoooooon.
The Summary:
After splitting with her boyfriend of seven years, Abigail Wood is single and very ready to mingle. She can't remember how to date or even how to act around a guy without scaring them away. She's desperate (ew) to mingle but has no idea where to start... or where to stop...
Enter: Hot, ravishing Robert, her flatmate and his six rules to surviving the single life and you get a beautiful, cheesy, fluffy book that will leave you giggling and sighing.
The Characters:
Let's scream "Hurrah!" for all these points!
-NO annoying, pathetic, whiny Mary Sues!
Abby is fucking hilarious. She's smart, sarcastic and witty and knows what to say in all the right (and wrong) situations. I found it impossible to dislike her and even when she was acting like a complete dickhead, I still loved her unconditionally. Her attitude and outlook on life is something to admire. Even being stuck in a dead-end job can't keep her down for long and she sees the positive side in everything:
It's not perfect, of course - the en-suite bathroom is poky, and the wardrobe is tiny, but my clothes have adjusted very well to the transition. They're such troopers.
I look down at my black peep-toes. Yes, you, I think. You're a trooper.
- NO annoying, moronic, stalkerish/psychotic Gary Stus! -- insert hurrah/fist-pump here --
Robert
is fantastic. He's funny, hot, incredibly caring and straightforward:
"Sexy outfit."
"Sexual harassment in the home environment," I say sniffily.
"Sorry. You look like shit. Go have some fun."
Luke, Robert's best friend and Abby's sister's fiancé
is a loyal best friend and brother-in-law. He's witty and funny and defuses every situation quickly.
Let's not even TALK about freakin' Dave!
It's impossible not like and relate to the characters. With every page I turned, I found myself either giggling or sighing (and trust me, even if you're out of breath after all the giggling and sighing, get an oxygen mask because you will feel the need to continue said giggling and sighing).
I can't believe I didn't read this before. Admittedly, I skimmed over this book when GR recommended it to me because GR's recommendations have been TERRIBLE so far. It wasn't until the lovely Inge (where have you been all my life?!) that I decided to finally read this.
And boy, I was NOT disappointed. From now on, I vow to follow Inge's recommendations forever and always. Don't let me down, girl.
This story has many ups and downs and it's incredibly easy to read. I admit it took me a while to get into it, but it wasn't the books' fault. I just lost the will to read this past week, so it took me much longer than the average book, but when I finally sat down and read it properly, it was unputdownable (that is a word now, ok?)
This GIF depicts everything I'm feeling:
5.5 stars and I regret nothing.